Welcome to the online home of the IW Knights Lenten Fish Fry.
This is our 29th year of raising funds for charitable causes and we're known as being the ONLY Cajun-style fish Fry in St. Louis!
CLICK HERE TO ORDER ONLINE
Online Orders Only
For Online Order Pickup, look for the orange tent in Front of IW Parish Church.
Pick up orders at 13416 Olive Blvd. in Chesterfield, MO. See Arial Map and Directions Below.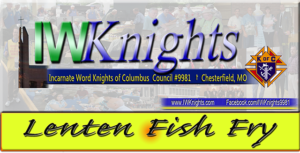 For those new to this extravaganza – starting with the IW Fat Friday Mardi Gras Event on Friday, March 1st from 7:00 PM – 10:00 PM and, beginning on Friday, March 8th, we offer SIX straight weeks of Fried Fish Fun every Friday from 4 to 7 PM!! The location of the event is in the Lower Church Hall (on the South side of Incarnate Word Parish).
Drive-up Carry-Out Ordering
The carry out orders can be ordered in person in the Incarnate Word parish lobby entrance.
Park in the upper lot of Incarnate Word church for carry-out order. Carry-out orders will be available for pickup in the parish lobby. Dine-in orders are held in the Incarnate Word lower church hall (around the back of the church building).  Please do not submit dine-in orders using the online ordering store.
Cajun Fish Fun every Friday from 4 to 7 PM!! The location of the event is in the Lower Church Hall (on the South side of Incarnate Word Parish).
(You can find us on the south-side of Olive Blvd either: One (1) block West of Route 141 or One (1) block East of Woods Mill Road)
And...you'll find colorful directions to all of our parking spots as you enter our campus.
Sure - we know you know that Easter is later on the calendar this year. Of course, that means Fat Tuesday and Ash Wednesday come later than, perhaps, you anticipated. So now we have set the stage - and if you have been around the parish for a while - you know that feeling developing in the pit of your stomach is just plain anticipation for the start of the 28th Annual IWKnights Lenten Fish Fry season…. Famous for being St. Louis' ONLY Cajun Fish Fry!
As always - the old fare is hearty, but fried Cod is STILL King at our fish fries. However, shrimp and tilapia are princes in our realm and always ready to appease your appetite. Our fried Cod offerings - sold as dinners, in bulk, and as Lit'l Cod plates, along with many side order choices - still rank as the most popular menu items overall!
Laissez les bons temps rouler! – Let the Good Times Roll!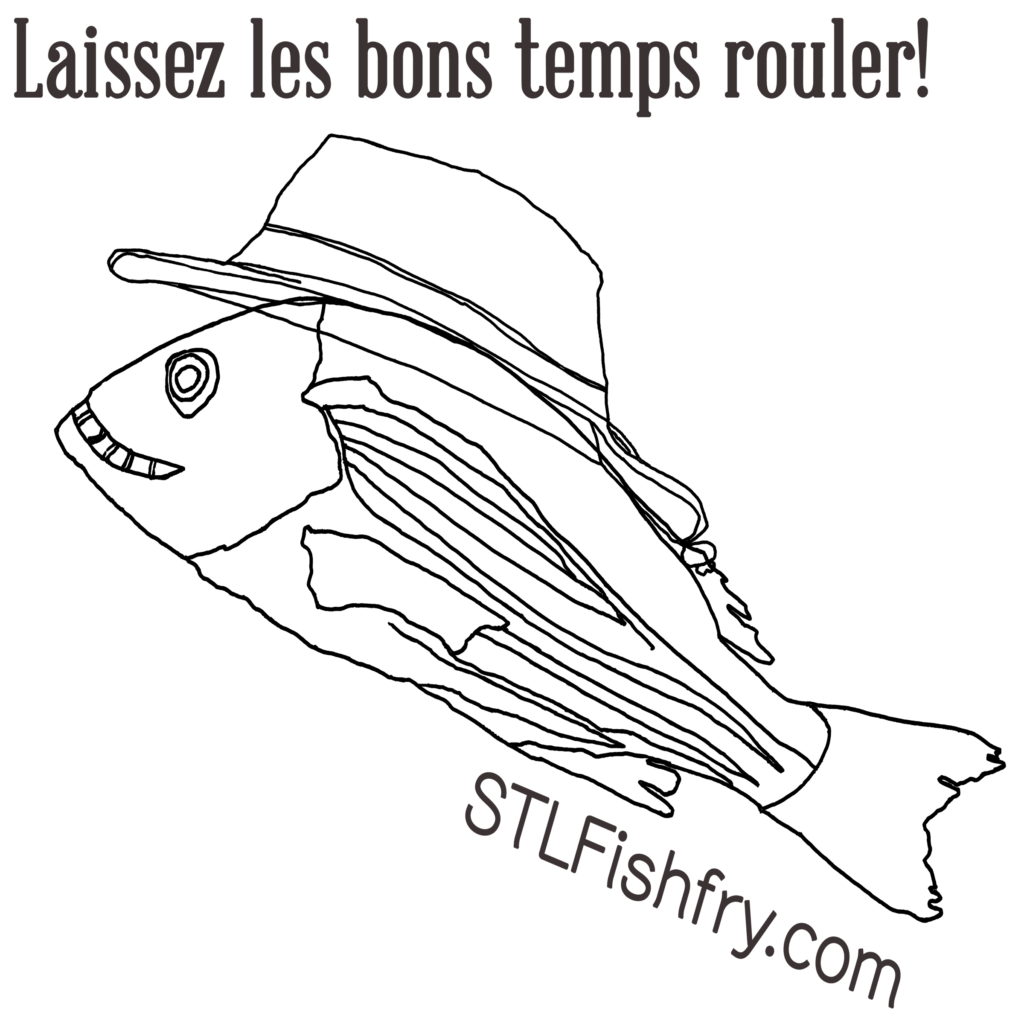 We're the only fish fry in west St. Louis County that accepts not only Cash, Checks, Credit/Debit Cards....but also various mobile payments as well.
---
We also serve a number of side orders and offer a weekly Cajun Special or two – for this week's special(s) check our message board hanging in entry tunnel. This year we are also offering a few menu items with a Cajun flavor.
-   A Seafood (Shrimp and Cod) Gumbo;
-   A Cajun Shrimp Taco.
-   CAJUN COMBO - Gumbo and Spicy Shrimp Taco
-   An occasional outside Shrimp and Vegetable boil (If the weather is cooperative);
Promo Spot that aired on the following radio stations in St. Louis in 2018….